Freedom Testing Products
Rapid Screen Self Test Kit For HIV 1 AND HIV

(USAID Approved)
Each Rapid Screen Self Test Kit For HIV 1 AND HIV 2 contains:


Micro pipette
Single use Safety Lancet (Retractable after use)
Test Cassette
Alcohol Swab
Diluent Bottle (Buffer)
Silicon gel (Drying agent to keep the content dry)
Manual Leaflet
1. Micro Pipette

To transfer blood drop from pricked finger to the Test Cassette


2. Single use Safety Lancet

To prick the finger for a drop of blood sample. The needle of the lancet will be retracted after use to avoid contact during disposal.


3. Test Cassette

Place about 1 drop of blood sample into the Sample Well using the micro pipette.

NEGATIVE RESULTS
(No HIV anti-bodies detected)

Dark Pink/Black Line next to "C"

POSITIVE RESULTS
(HIV anti-bodies detected)

Dark Pink/Black Line next to "C" and "T"



4. Alcohol Swab

To clean the finger before using the Single Use Safety Lancet


5. Diluent Bottle (Buffer)

Place about 2 - 4 drops of Diluent Liquid into the Sample Well slowly.

Wait for 5 -10 minutes to get the test results

Note :
Use within 10 minutes after opening.
For Single Test Only.
Do not share lancet.
Dispose properly after use.
Please note that the test kit is an aid only to identify individual at this point of time. Doctors advise that the typical period of time between first contact and a positive test indication is about 90 days.



Precautions
Designed for in vitro diagnostic use only.
Do not use test kit beyond the specified expiry date.
The test device should not be reused.
When performing the HIV test, the steps must followed closely.
---
Syphilis Test Kit (CE Approved)

Syphilis (Treponema Pallidum) is passed from person to person through direct contact with a syphilis sore. Sores occur mainly on the external genitals, vagina, anus, or in the rectum. Sores also can occur on the lips and in the mouth.

Many people infected with syphilis don't get any symptoms, except the primary stage chancre, until they enter the last stage of the disease. Although transmission occurs from persons with sores who are in the primary or secondary stage, many of these sores are unrecognized. Thus, transmission may occur from persons who are unaware of their infection.

Primary stage symptoms:
A single sore, a chancre, usually firm, round, small and painless.
Secondary stage symptoms:
Skin rash
Mucous membrane lesions
Fever
Swollen lymph glands
Sore throat
Patchy hair loss
Headaches
Weight loss
Muscle aches
Fatigue
Latent stage: Late stage:
Difficulty coordinating muscle movements
Paralysis
Numbness
Gradual blindness
Dementia
DEATH
The symptom for the first stage usually occur within 10 to 90 days after infection, symptoms for the late stage can occur after 10 to 20 years.


The One Step Anti-TP (Treponema Pallidum / Syphilis ) Test is a rapid, serological, immunochromatographic asay for the direction of antibodies to Syphilis antigen in human whgole blood, serum or plasma. The test is used to obtain a visual, qualitative result and is the same test kit used by professional healthcare.



Features & Benefits:
Easy to use
Two simple steps - Add Sample & Reagent Developer
Laboratory Accurate with 99% Accuracy
Easy-to-read color Band signal with built-in test control
Confidential results in 10 minutes
High sensitivity and specificity
Complete privacy
Exact same test kit used in the medical labs
CE Approved





DISCLAIMER :
When performing the HIV test, the steps involved must be followed closely, If there has been a possible exposure to infected blood, and the person tested negative for HIV, the test must be repeated in 90 days. It is imperative that a positive HIV test result be followed by a Western Blot or PCR test performed by a doctor or clinic to confirm if you are indeed HIV positive. Since NO test, nor test kit is infallible, it is best to confirm test results by using a licensed medical testing facility. For one time usage only.
Language
HIV Blog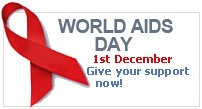 Testimonials
Your test kits are really easy to use. Thanks for the fast delivery as well....

I did not know that HIV and Syphilis test kits do exist until I found out about your site....

A very great test kit. Thank you for selling such a wonderful product !...